Rust is an ongoing problem and will always reduce the value of any asset.
In addition to looking neglected, rusted objects will continue to deteriorate unless action is taken and the longer the problem is left – the worse it will become.
Ultimately, rusted objects can become unsafe and unusable.
Neutrarust 661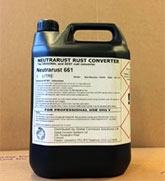 Neutrarust was developed over 30 years ago and provides the simplest solution to the problem of rust – and it's environmentally friendly!
With its closely guarded secret formula, Neutrarust has lead the way in rust treatment and has been used worldwide.
It is supplied to the Ministry of Defense and carries a NATO Stock Number.
Ship owners and offshore oil platforms use Neutrarust to keep on top of the ever-present threat of rust – because it works!
Being water-based, Neutrarust is safe to use and ticks all the environmental boxes:
Protects assets – keeping them in service for longer periods.
Is classified as Non-Hazardous for use; transport and storage.
Does not use solvents, so no VOC's to worry about.
Can be washed off with water, no need for detergents or thinners.
Increases painting maintenance periods.
Gives off no toxic fumes when burnt (tested for use in deep tunnels).
Available in 1, 5, 20 and 205 litre containers.
Download Neutrarust 661 Material Safety Data Sheet (MSDS)
Neutrarust TL – Not Currently Available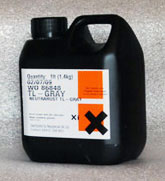 Developed for use in protecting the inside of ships ballast tanks, water-based TL is another 'green' product that we are proud of.
Extremely flexible and water proof, TL is suitable for many applications and is a strong favorite with the Royal Navy.
Having stood the test of time in some of the harshest environments, TL is a real barrier coat and can be used on concrete and many other substrates.
TL has a matt finish and is available in light and dark shades of: grey, green or blue. It can be made in other
colours on request for orders over 20 litres.
Available in 5, 20 and 205 litre containers.
Download Neutrarust TL Material Safety Data Sheet (MSDS)