Ahead of its time in the 1980s when solvent based products were popular, Neutrarust rust converter ticks all the boxes in today's more environmentally aware society.
There is minimum preparation, with no need to clean back to bare steel.


Only one of the following statutory symbols applies to our products: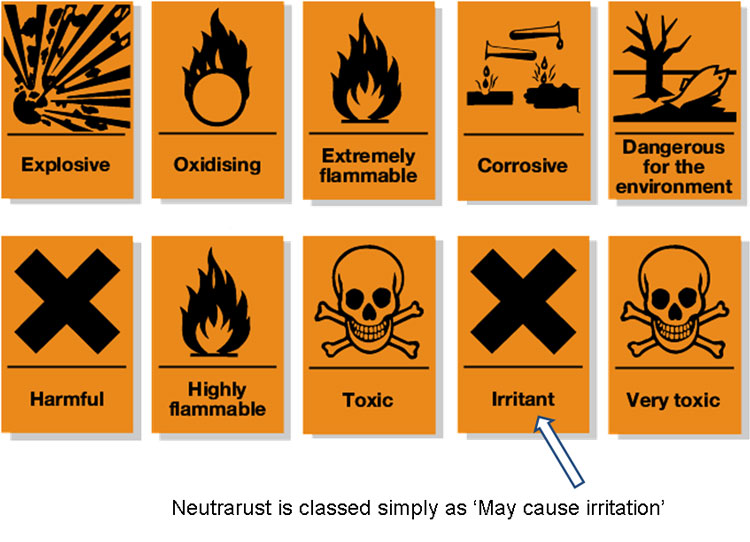 ……………………………………………………………………………………………………………………………………………………………………………………………
We cannot emphasise enough how simple preparation really is
Without the need to prepare back to bare metal, all that is required is the removal of any surface contaminants (oil; grease; salt; dirt and grime) and loose or flaking paint and rust.
This can often be done with a wire brush. Alternatively, for larger surfaces or where access is difficult, a pressure-washer can be used. Note: NR661 can even be painted onto damp steel!
That's it! Preparation is done.
Overcoating and finishing
Neutarust 661 has no pigment and no UV barrier and, therefore, it should be over coated with a paint that will offer protection against UV, where direct exposure to sunlight is expected.
Fortunately, almost any paint system can be used.
Before applying paint, the Neutrarust surface should be inspected to ensure that a good key can be offered (it can dry to a high gloss).
If necessary, the surface should be lightly abraded to ensure maximum cohesive strength.
Note: If left without a top coat of UV resistant paint, NR661 will still offer good protection against rust but may fade or become opaque over time. Depending on circumstances, the protection benefit may still last many years. So, it is not essential to paint over Neutrarust immediately.